FAQs
Not sure about something? …perhaps it's in our FAQs
The WaterRower is delivered in two boxes, one weighing about 24Kgs, the other around 14Kgs. It will take about five minutes to remove the packaging (the packaging may be disposed of) and no more than 25 minutes to put the machine together with the alan key provided with the machine. There are just 16 bolts to locate. We provide very comprehensive photographic instructions. It is very simple. We have never had a single customer struggle putting a WaterRower together!

The WaterRower is almost maintenance free. Simply pop in a water purification tablet every 3 months or so to keep the water clean. We provide these tablets free of charge. When you have used the tablets we supply with the machine, just call and we will send some more out to you. Other than that the machine just needs a wipe down once in a while!

No. The WaterRower Series 4 monitor works off long life batteries, meaning that you are not constrained in positioning the machine near a mains plug and there are no messy cables trailing on the floor.

The WaterRower is 533mm High, 558mm Wide and 2090mm Long, weighing in at 33Kgs when out of the box (without water in the tank). When stood upright the WaterRower takes up about as much room as a dining room chair! See 'Technical' FAQs at the top of this page for a full spec.

The WaterRower is very quiet in use. It makes a gentle slooshing sound as you row but this will not be heard through floors or through walls. The WaterRower is quiet enough to use whilst in front of the Television without disturbing those around you.

Height 533mm, Width 558mm, Length 2018mm. The machine weighs 33Kgs out of the box and weighs up to a maximum of 53Kg with water. Maximum user weight 315kgs | Easy Transport | Easy to Install | Easy to live with - looks like furniture and takes up little room when upright | Infinite Resistance Adjustment | Smooth and quiet Water resistance | Comfortable Seat | Virtually Maintenance Free | 5 year Warranty | Multifunction Computer including Watts/Calories/Time/Heart Rate/Cadence/Trip Distance/Total Distance/Time per 500m/Facility to race on line/Splits and lots more

The WaterRower is quite happy on carpets, wood floors, stone floors or concrete. It tends not to move even under severe use. Being relatively light at a maximum of 55Kg when full of water, the WaterRower can be used upstairs or downstairs. The machine can be taken outside for rowing, but NEVER left outside.

The WaterRower has a manufacturers warranty of 3 years on all components and 5 years on all wooden components. Of course, if you are a Basic Hire or PRO Scheme customer we will maintain the machine for you so that you always have a fully working WaterRower.
Product Guides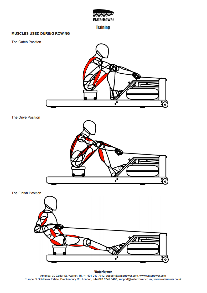 WaterRower Guide
A brief training guide to help you start rowing
Download (PDF)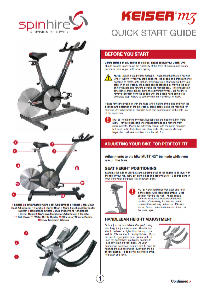 Keiser M3 Guide
A quick look at the M3 and correct cycling postures
Download (PDF)