FAQs
Not sure about something? …perhaps it's in our FAQs
We have used and new machines in stock but on very rare occasions certain products may be out of stock. If there is a problem, we will contact you as soon as your order is received (during office hours), to advise and arrange an available delivery date. The online application process is extremely simple and takes just a couple of minutes. If you apply online and get your application to us before 11.00am we can get you a machine next day (see Delivery FAQs at the top of this page for further information). You could be getting fit tomorrow!

Rowhire take care of the service and maintenance of Basic Rental and PRO Scheme machines. If there are problems with the machine we may send a part out, send an engineer out, or swap your machine for another fully serviced unit. There are no charges for this, so long as the machine has only suffered normal wear and tear. If the machine was sold to you new it will come with the full manufacturers warranty (see machine warranty FAQ for further details)

It's simple to cancel after the minimum three month term. Either send us an email with your full name and address, or login to your customer area and download the cancellation form.

Please notify us by email that you wish to cancel 30 days before to your anniversary date (the date in the month that you signed your agreement). Contracts can only terminate on your monthly anniversary date. You must give at least 30 days notice prior to the anniversary date that you want the contract to end. For example, if your anniversary date is the 10th of every month, and you want your contract to terminate on the 10th of December, you must give notice at least 30 days before this date, so no later than the 10th of November.

A return box will be sent approximately 10 days prior to the end of the contract. In the box there will be detailed dismantling instructions, returns labels and a contact for our courier. Please dismantle the machine, attach the labels and ring the courier to arrange to have it back to us within the required timescale (this will be on your email of cancellation).
Product Guides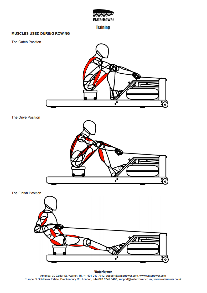 WaterRower Guide
A brief training guide to help you start rowing
Download (PDF)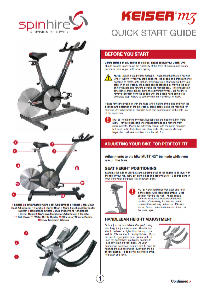 Keiser M3 Guide
A quick look at the M3 and correct cycling postures
Download (PDF)