FAQs
Not sure about something? …perhaps it's in our FAQs
Height 1143mm, Width 660mm, Length 1244mm. The weight of the machine is 38.5kg out of the box. Maximum permitted user weight is 136Kg. Adjustable Shimano Combo Pedals | Easy Transport | Gravity Based Water Bottle Holder | Dual Placement Comfort Handles | Four-Way Adjustable Seat Position (Up, Down, Forward, and Backward) | Adjustable Handlebar Height | Anti-Slip Belt (Requiring No Adjustment) | Non Wear Magnetic Resistance | Easy to Install | Infinite Resistance Adjustment | Smooth Resistance Shifter | Comfortable Saddle | Virtually Maintenance Free | 2 Year Warranty | Whisper Quiet | Multifunction Computer including Watts/Calories/Time/Heart Rate/Cadence/Gear/Trip Distance/Total Distance

The M3 is 1143mm High, 660mm wide and 1244mm long. The machine weighs 38.5Kgs out of the box and has a maximum user weight of 136Kg. See 'Techincal' FAQ on the left for a full spec.

The M3 is almost totally silent in operation. There is a very slight whispering noise from the bearings and that's about it. No noise could be heard through walls or floors and it is fine to use in front of the television without disturbing other viewers.

The M3 has four large rubber feet and is suitable for placement on any floor surface.

No. The M3 is completely maintenance free. To take care of the machine it does need wiping down after each use though as sweat is very corrosive. We supply two small M3 towels with each machine for this purpose.

No. The Computer Monitor on the M3 is battery operated with a very long life. This enables the machine to be placed anywhere and avoids messy electric cables over the floor.

If you are a Basic Hire or PRO Scheme customer, then we look after the machine for you if it gets a problem. For customers buying a machine from us, the M3 comes with a very comprehensive manufacturers 2 year call out parts and labour warranty.

The M3 is delivered in two boxes, each weighing around 20Kgs. The courrier will deliver the boxes in to a ground floor room. It will take about ten minutes to remove the packaging (all packaging can be disposed of)and about a further twenty minutes to put the machine together. We provide very compreshensive photographic instructions and there is a total of just 12 bolts to locate. We provide all the tools required. It is very simple, and of the several hundred M3s we have sold and hired we have never had a single customer struggle!
Product Guides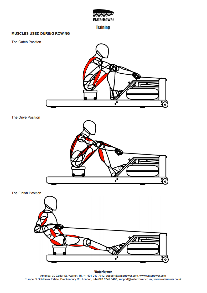 WaterRower Guide
A brief training guide to help you start rowing
Download (PDF)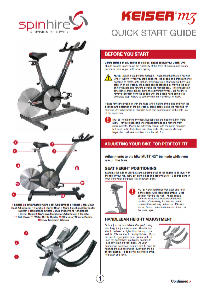 Keiser M3 Guide
A quick look at the M3 and correct cycling postures
Download (PDF)